P2R2115TCB P2R2 1" High Steel Dual Drive Bit-Tic-Tac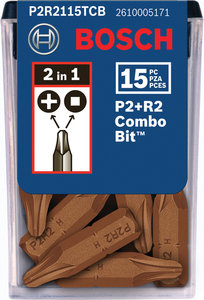 Availability:
Shipping: Email websales@fastenal.com for availability
*This is not a standard fastenal.com product
In-stock Alternative Products
Loading products, please wait.
Product Details
3TG Unknown:

Y

Drive Size:

#2

Drive Style:

Phillips

Overall Length:

1"

Shank Size:

1/4" Hex

Style:

Double Ended

Tip Style:

Standard

Type:

Insert Bit

Product Weight:

1.05 lbs.

Applications:

2 in 1 bit for Phillips and Robertson screws"

Notes:

Allows user to drive Phillips (P2) and Robertson (square Drive)(R2) screw heads

Bosch offers a wide range of quality screwdriver bits designed and manufactured to meet the toughest work conditions. The broad product offering includes 16 different bit geometries and a wide assortment of bit holders and nutsetters.