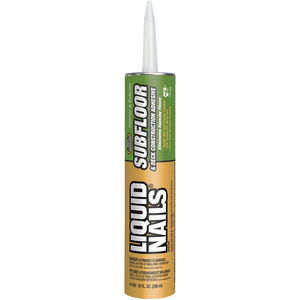 10oz LN602 Liquid Nails Adhesive for Subfloors and Decks
| | |
| --- | --- |
| Fastenal Part No. (SKU) | 63902 |
| Manufacturer Part No. | 407666 |
| | |
| Manufacturer | |
This is a Catalog Item
Wholesale:
$190.08 / case of 24
Online Price:
$151.92 / case of 24
Product Attributes
Application

Subfloor, Decks

Chemical Base

Rubber / Resin

Color

Tan

Container Size

10 oz

Container Type

Cartridge

Physical Form

Paste

Specification

ASTM D-3498, APA-AFG-01

Temperature

10°F - 100°F

Type

Construction Adhesive

Viscosity cP

2

Product Weight

21.6

UOM

case of 24

Catalog Page

BBV11, Page 11-92


Liquid Nails® has become synonymous with high performance, premium products. Liquid Nails® is the #1 brand of construction adhesive. Contractors continually choose the Liquid Nails® line of adhesives when they are looking for outstanding performance. Liquid Nails® adhesives out-perform with superior bonding, water resistance, low odor, and can stand up to any tough conditions. Used for exterior and interior projects, this weatherproof adhesive is great for subflooring, decks, docks, and sheathing, It even penetrates wet, frozen and treated lumber. It has superior bond strength, longterm flexibility and excellent bridging capabilities. It strengthens construction projects and eliminates the need for double layers of plywood on subfloors. Tan color blends with wood. LN602 reduces nailing, squeaks and nail pops. Exceeds requirements of ASTM-C-557 for field gluing of subfloors.

Creates stronger subfloor systems
Prevents squeaking
Bridges gaps
Easiest cold-weather gunning
Bonds wet, frozen and treated lumber

Recommended For: increasing the structural integrity of wall, deck and subfloor system using the following common building materials: plywood, waferboard, particleboard, lumber and treated lumber. NOT Recommended For: bonding underlayment directly to concrete or uses other than subfloor, deck and wall system installation.Surface Preparation-Make sure that all surfaces are clean, structurally sound and free of excess water before applying this construction adhesive. Wood can be damp, but the construction adhesive will take longer to dry. LN-602 construction adhesive can be applied at temperatures as low as 10°F (-12°C). Product Application-Condition LN-602 construction adhesive to at least 40°F (4°C) for easier gunning. Adhere materials within 15 minutes of gunning construction adhesive. Make sure skin of bead is broken. If it's not, scrape off bead and apply fresh bead of construction adhesive. Decks-Use a 1/4" (.64 cm) bead of construction adhesive on every joist for added strength and to prevent squeaking. Nail planks at every other joist. Pre-drill nail holes to prevent splitting of wood. Subfloors-Conventional or tongue and groove: Lay one 1/4" (.64 cm) zig-zag bead of construction adhesive on each joist. On supporting joists where sheets meet, lay two zig-zag beads of construction adhesive for added strength and to prevent squeaking. Space joints the thickness of a putty knife to allow for expansion. Nail section into place with 8d annular or spiral nails 12" (30 cm) on center on all joists. Subfloor must be under roof within 6 weeks of construction. Proper installation methods for subflooring must be followed. Cleanup-Use mineral spirits to clean up both wet and dry construction adhesive.
Supply Chain
Availability

Contact Branch

Check Other Locations

Not in Stock. Contact your branch for purchasing options.

1-877-507-7555