Standard Loctite® O-Ring Making Kit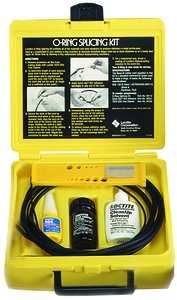 Availability:
Shipping: Leaves Indianapolis warehouse within 1 business day
Fastenal Part No. (SKU):

62381

Manufacturer Part No.:

00112

UNSPSC :

Manufacturer:

Category:
In-stock Alternative Products
Loading products, please wait.
Product Details
Compliance:

CA Prop65:

Y

Canada Specific Item:

Y

Color:

Clear

Container Type:

Kit

Contents:

Waterproofing solution, clean-up solvent

Contract Catalog Item:

Y

Type:

O-Ring Making Kit

Product Weight:

3.708 lbs.

Applications:

Fiber optic assembly, multimode and single mode connectors, small potting and sealing applications."

Notes:

Allow replacement of high performance O-Rings in less than a minute. The compact kit contains 3-foot lengths of common diameters of Buna N cord stock, Loctite® 404™ Quick Set™ Instant Adhesive, splicing fixture and cutting blade, water-proofing solution and clean-up solvent. Loctite® Quick Set™ 404™ Instant Adhesive also available as a separate item.

LOCTITE ECCOBOND F 112 is a long pot life, impact resistant, fiber-optic adhesive.
This two-part, low viscosity epoxy paste adhesive has the distinct advantage of remaining below 3000 cP's for a minimum of 40 minutes.
Sufficient cure is developed for polishing connectors in 15 minutes at 65°C.
Catalog:

BBV11, Page 08-68
BBV11, Page 11-67