1/4-28 Lincoln Self-Tapping Straight Zerk Grease Fitting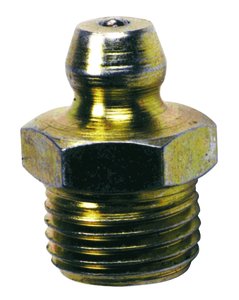 Availability:
Shipping: Email websales@fastenal.com for availability
*This is not a standard fastenal.com product
Fastenal Part No. (SKU):

58861

UNSPSC :

Category:

Power Transmission & Motors > Grease Fitting Products > Grease Fittings
Discontinued Item - Availability is limited
In-stock Alternative Products
Loading products, please wait.
Product Details
Compliance:

Angle:

Straight

Discontinued:

Y

Finish:

Zinc, Blue Bright

Material:

Steel

Size:

1/4"

Type:

Grease Fitting

Product Weight:

10 lbs.

Notes:

Lincoln fittings are used by automobile, truck, construction, equipment, and machine manufacturers by the millions every year. Trust Lincoln to provide quality fitting for your maintenance projects.Fastenal grease zerks and fittings extend far beyond what you find in the tables below. Please ask if you need something different or specialized.