1/2"ID x 5/8"OD x 100 ft Orange SharkBite® PEX Resin With Oxygen Barrier Tubing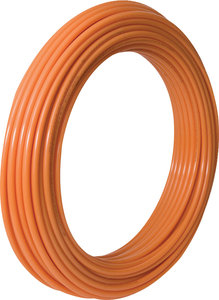 Availability:
Shipping: Email websales@fastenal.com for availability
Fastenal Part No. (SKU):

4202103

Manufacturer Part No.:

U860O100

UNSPSC :

Manufacturer:

Category:
In-stock Alternative Products
Loading products, please wait.
Product Details
Application:

Domestic water supply systems

Color:

Orange

Contract Catalog Item:

Y

Inner Tube Diameter:

1/2"

Length:

100 ft

Material:

PEX Resin

Outer Tube Diameter:

5/8"

Specification:

NSF 61

Style:

With Oxygen Barrier

Temperature:

200°F

Type:

Tubing

Working Pressure:

200 psi

Product Weight:

5 lbs.

Applications:

Use for potable water distribution and other water systems. Available in straight lengths and coils in pipe sizes ranging from 1/4" through 1"."

Notes:

SharkBite® PEX Tubing
SharkBite® PEX tubing is a cross-linked polyethylene tubing for a wide range of residential and commercial plumbing applications. Manufactured without an oxygen barrier for potable water systems (available in white, blue, and red) and with an oxygen barrier for radiant floor and hydronic heating applications (available in orange). The oxygen diffusion barrier applied to the exterior limits oxygen permeation through the tubing wall in hydronic heating applications which prevents corrosion of ferrous metal parts in the heating system. A repeating SharkBite® imprint pattern provides a visual aid to determine if the tube has been inserted all the way into the SharkBite® Push-Fit Fitting. This feature only works if the tubing is cut between the SharkBite® imprint pattern.

Lightning Fast. Won't Let Go.
Catalog:

BBV11, Page 08-52
Related Items

Availability:
Shipping: Email websales@fastenal.com for availability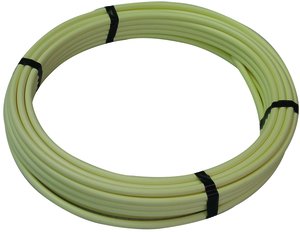 Availability:
Shipping: Email websales@fastenal.com for availability

Availability:
Shipping: Email websales@fastenal.com for availability