1/4" Plain Finish Steel - Malleable Beveled Washer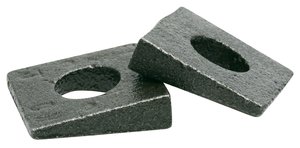 Availability:
Shipping: Email websales@fastenal.com for availability
Fastenal Part No. (SKU):

33330

UNSPSC :

Manufacturer:

Category:

Technical Specifications for Part:

Fastenal Product Standard
In-stock Alternative Products
Loading products, please wait.
Product Details
Compliance:

3TG:

Does not contain 3TG

Contract Catalog Item:

Y

Finish:

Plain

Inner Diameter:

0.310"

Material:

Steel

Nominal Size:

1/4"

Outer Diameter:

0.690"

REACH:

Y

RoHS:

Y

System of Measurement:

Imperial (Inch)

Thickness:

0.160"

Type:

Beveled Washer

Product Weight:

0.022 lbs.

Notes:

Square beveled washers are specially designed for shimming and leveling in structural applications. Use with American standard beams and channels that have 1: 6 slope (the same taper as a standard I-beam). Plain Malleable washers are for general applications. Plain Finish, or bare metal finish which may contain a light coating of oil.
CAD (Computer Aided Design) Drawings:

Catalog: