1.25" x 3.5" Bolt Diameter Thread Pitch Wrench Size Gauge Inch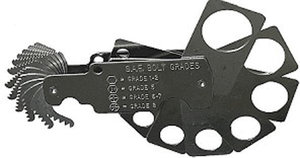 Availability:
Shipping: Email websales@fastenal.com for availability
*This is not a standard fastenal.com product
Fastenal Part No. (SKU):

11139089

Manufacturer Part No.:

G-CA14-2-1

UNSPSC :

Manufacturer:

Category:

Cutting Tools & Metalworking > Precision Measuring Tools > Gauges > Bolt Gauges
In-stock Alternative Products
Loading products, please wait.
Product Details
Compliance:

Application:

Sizing inch bolt diameters & thread pitches

Contract Catalog Item:

Y

Material:

Stainless Steel

Size:

1-1/4" x 3-1/2"

Type:

Tri Gage Combo Tool - Inch

Vending Certified:

Y

Product Weight:

0.4 lbs.

Applications:

Accurately identify inch bolt diameter, wrench size needed & thread pitch"

Notes:

Accurate and compact inch thread checker that fits in your pocket

Compact/ 99% Stainless Steel, Bolt Sizer/Thread Pitch Gages: Threads per Inch Range: 8 - 28, Type: Bolt Sizer/Thread Pitch Number of Leaves: 22, Bolt Diameter Range: 1/4"-1"
Related Items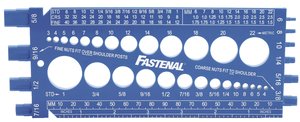 Availability:
Shipping: Leaves Indianapolis warehouse within 1 business day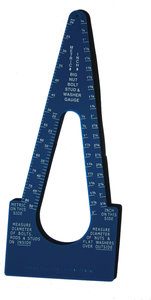 Availability:
Shipping: Leaves Indianapolis warehouse within 1 business day