4-1/2" x 5/8"-11 Type 29 60-Grit Standard Density Zirconia Alumina Blackstone® Flap Disc w/ Fiberglass Backing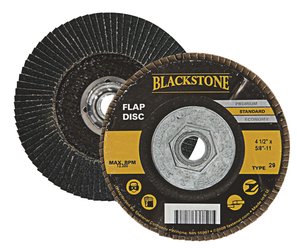 Availability:
Shipping: Leaves Indianapolis warehouse within 1 business day
Fastenal Part No. (SKU):

0818990

UNSPSC :

Manufacturer:

Category:
In-stock Alternative Products
Loading products, please wait.
Product Details
Compliance:

Abrasive Material:

Zirconia

Application:

Carbon Steel, Stainless Steel

Arbor Size:

5/8"-11

Attachment Type:

Threaded Hub

Backing Material:

Fiberglass

Color:

Blue

Density:

Standard Density

Diameter:

4-1/2"

Grade:

Medium

Grit:

60

Operating Speed:

13300 rpm

Type:

Flap Disc

Type Number:

Type 29

Vending Certified:

Y

Product Weight:

2.7 lbs.

Notes:

BLACKSTONE FLAP DISCS

Blackstone Flap Discs are made with Premium VSM coated abrasives. Blackstone Flap discs are designed for grinding and blending - grinding like depressed center wheels and blending like a fiber disc-all completed with one disc and one operation.
Typical applications include stock removal, weld grinding, deburring, cleaning and finishing.
High Density Flap Discs contain 60% more abrasive flaps than standard density discs, granting a longer life and smoother finish.
Blackstone Flap discs are offered in many sizes, grits and materials which can used on all metals, ferrous and non.

STANDARD - The Blackstone Standard flap discs are a high performance disc made from premium poly/cotton zirconia abrasive material. Blackstone Standard flap discs offer consistent rapid stock removal and better longevity compared to other competitive flap discs.
Catalog:

BBV11, Page 16-23
Related Items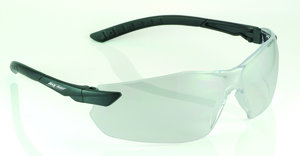 Availability:
Shipping: Leaves Indianapolis warehouse within 1 business day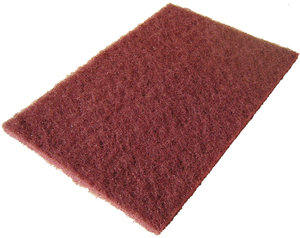 Availability:
Shipping: Leaves Indianapolis warehouse within 1 business day

Availability:
Shipping: Leaves Indianapolis warehouse within 1 business day