6733-2 50ft Red Silicone Insulated Test Lead Wire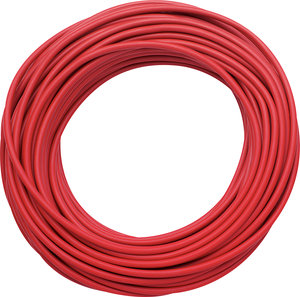 Availability:
Shipping: Email websales@fastenal.com for availability
*This is not a standard fastenal.com product
In-stock Alternative Products
Loading products, please wait.
Product Details
Compliance:

Color:

Red

Length:

50 ft

Material:

Silicone

Number of Pieces:

1

Style:

Silicone Wire

Temperature:

-58°F - 302°F

Type:

Test Lead

Voltage:

10000

Wire Size:

18 AWG

Product Weight:

0.73 lbs.

Notes:

Silicone Insulated Test Lead Wire, 50 feet, red

Same wire as used with the Pomona test leads and patch cords.
Make your own "Extra Long" test leads, jumpers or patch cords.
Fits Pomona "Do-It-Yourself" banana plugs and jacks.
High temperature and voltage ratings.
Silicone insulation with high wire strand count allows for superb flexibility.