Touch 'N Seal® 120 Two-Component Polyurethane Foam Kits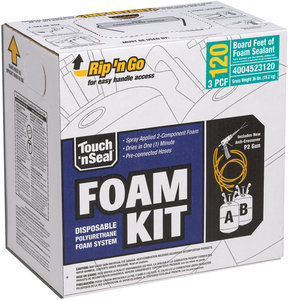 Availability:
Shipping: Email websales@fastenal.com for availability
Fastenal Part No. (SKU):

0223957

Manufacturer Part No.:

4004523120

UNSPSC :

Manufacturer:

Category:
In-stock Alternative Products
Loading products, please wait.
Product Details
Compliance:

Application:

Wood, metal, vinyl, stone/cement

Color:

Tan

Container Size:

37 lb

Container Type:

Cylinder Kit

Material:

Polyurethane

Style:

2-Component

Temperature:

70°F - 100°F

Type:

High Density Foam Sealant

Product Weight:

26.4 lbs.

Applications:

Roofing, Boat Repair"

Notes:

3 Pound Density Foam Kit. Touch 'N Seal Two Component Foam Kits Are Portable, Self-Contained Dispensing Systems. When Used According To Manufacturer's Directions, These Systems Supply Thermal Insulating And Sound Attenuating 2-Component Polyurethane Spray Foams. Touch 'N Seal Spray Foams Are Permanent And Dry Within Minutes Of Application. Touch 'N Seal Spray Foam Kits Use Disposable, Pressurized Chemical Cylinders To Dispense Polyurethane Spray Foams Eliminating The Need For External Air Compressors, Pumping Equipment Or Dry Nitrogen. These Systems Provide Quick And Easy Foam Application For Repairs And Renovations, New Installations And Production Applications.

High Density Foam
Easy to Transport
No Expensive Maintenance
No Investment Cost
No Deposit/No Return
Reduces Energy Loss By As Much As 40%
Reduces Fossil Fuel Use and Improves Air Quality
Permanent Insulation
Does Not Shrink Or Settle Like Cellulose
Maintains Air Seal
Compatible with All Fiber Insulation Systems Including Cellulose, Fiberglass and Rockwool
No Ozone Depleting Chemicals
Helps to Reduce Green House Gas Emissions
Expands to Fill Smallest to Largest Gaps, Cracks and Holes, Reducing Air Exchanges
High R-Value
Closed Cell Structure
Allows for Down-Sized HVACs Systems
Uses Less Energy, Fewer Cycle Times, More Consistent "Comfort Level" and Reduces Equipment Maintenance
Significantly Increases Structural Strength
Important In High Wind Situations (Per the Spray Polyurethane Foam Alliance).
Related Items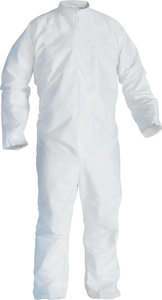 Availability:
Shipping: Leaves Indianapolis warehouse within 1 business day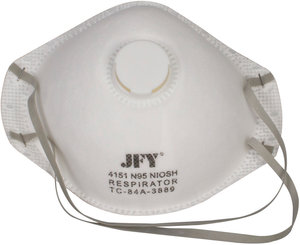 Availability:
Shipping: Leaves Indianapolis warehouse within 1 business day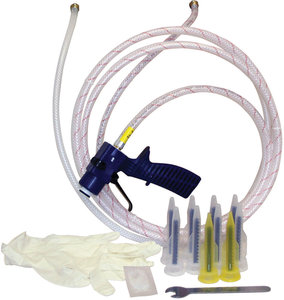 Availability:
Shipping: Email websales@fastenal.com for availability