1-1/4"-7 x 7" 304 Stainless Steel Full Thread Tap Bolt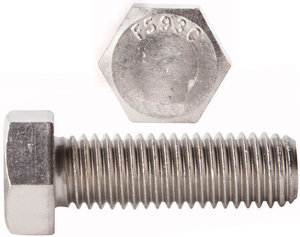 Availability:
Shipping: Email websales@fastenal.com for availability
*This is not a standard fastenal.com product
Fastenal Part No. (SKU):

0172985

UNSPSC :

Manufacturer:

Category:

Fasteners > Bolts > Cap Screws & Hex Bolts

Technical Specifications for Part:

Fastenal Product Standard
In-stock Alternative Products
Loading products, please wait.
Product Details
Compliance:

3TG:

Does not contain 3TG

Diameter:

1-1/4"

Diameter-Thread Size:

1-1/4"-7

Finish:

Plain

Grade:

304

Length:

7"

Material:

Stainless Steel

REACH:

Y

RoHS:

Y

Specification:

ASTM F593

System of Measurement:

Imperial (Inch)

Thread:

Coarse

Thread Size:

7

Thread Type:

Full Thread

Type:

Tap Bolt

Wrench Size:

1-7/8"

Product Weight:

56.646 lbs.

Notes:

Tap bolts are similar to hex bolts except they are fully threaded no matter what their length. They are designed to be used in drilled and tapped holes. They are used in applications where a stud with a nut on each end would be impractical. Used in low strength applications. Stainless Steel material. Grade 18-8 has the same design advantages as a low carbon bolt, however can be used in environments that require greater atmospheric corrosion resistance.