SB612 Steel/Steel Marson Blind Rivet Packaged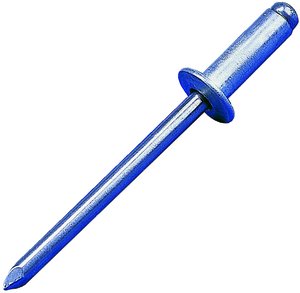 Availability:
Shipping: Leaves Indianapolis warehouse within 1 business day
Fastenal Part No. (SKU):

0155888

UNSPSC :

Manufacturer:

Category:
In-stock Alternative Products
Loading products, please wait.
Product Details
Contract Catalog Item:

Y

Diameter:

3/16"

Drill Size:

#11

Finish - Body/Mandrel:

Zinc

Grip Range:

0.626" - 0.750"

Head:

Button

Head Diameter:

0.375"

Head Height:

0.060"

Hole Size:

0.192" - 0.196"

Length:

0.950"

Material - Body/Mandrel:

Steel/Steel

Series:

SB6-12

Shear Strength:

610 lb

Specification:

ASME B18.1.1

Tensile Strength:

870 lb

Type:

Blind Rivet

Product Weight:

5.9 lbs.

Applications:

construction, automotive, marine, aerospace, HVAC, medical, electrical, telecom, military, trailers, cosmetics, biotechnology, pharmaceutical, textiles, furniture, laser, computers, restaurant equipment"

Notes:

This full line of headed rivets for general consumer and industrial applications. The materials and manufacturing processes used to head rivet bodies increases their shear and tensile strength values over eyelet-style rivets. These easy-to-use rivets are used to fasten together two or more pieces of material of varying thickness. The shear and tensile strength of the rivet selected and the number of rivets used in the application should equal or exceed the joint strength requirements. Typical ultimate shear and tensile values of Klik-Fast rivets are listed by rivet body diameter and alloy. Determine the total material thickness to be joined; refer to the Grip Range column on the specific page, select the rivet size that meets or exceeds the application thickness.
Catalog:

BBV11, Page 01-292