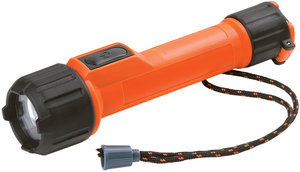 Intrinsically Safe Lights
Designed to resist sparking, intrinsically safe lights are a popular choice in the oil and gas industries.
(3 items in Intrinsically Safe Lights)
Fastenal Part No. (SKU)
2136655
3AA 270 Lumens Y/Blk Intrinsically Safe Flashlight
Manufacturer
COAST PRODUCTS
Online Price:
$46.99 / each
Fastenal Part No. (SKU)
1008061
1.5V 4LR44 Black LED Plastic/Resin Flashlight
Manufacturer
PELICAN PRODUCTS, INC.
Online Price:
$14.99 / each
Fastenal Part No. (SKU)
2102651
4AA Alkaline Black Polymer Safety Rated Intrinsically Safe Flashlight
Online Price:
$55.99 / each